Genesis
Folio I, Plate 28, Canon De Chelly ~ Navaho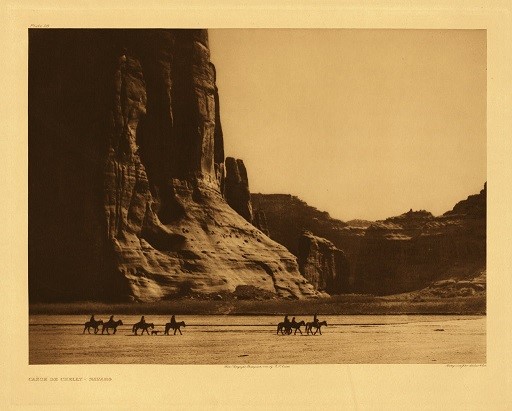 "Canon De Chelly" is one of my favorite photographs of all time. I first saw it in 1972 when I was a young photojournalism student at the University of Missouri. I thought to myself, "Wow, I didn't know these kinds of photographs existed, combining the culture of a great people, their land and history, and doing it so artistically. Who is this guy, Edward Curtis?" I realized I was looking at the first National Geographic type of photography, made before there was a National Geographic! No wonder my 2 favorite professors, Dr. Art Terry; former editor in chief of National Geographic Magazine, and Angus McDougall encouraged me to check out the work of Edward Curtis.
This experience inspired my long standing interest and study of Edward Curtis's prints and the Native Americans. I was struck by its wonderful sense of light, depth and composition. I was amazed Curtis could get such a great result with that old cumbersome large format camera on a tripod with the glass plate negatives. This, and many other Curtis photographs, reminds me of the master English, Dutch and Italian painters. It was the catalyst that led me to seek out and explore Curtis's entire body of work.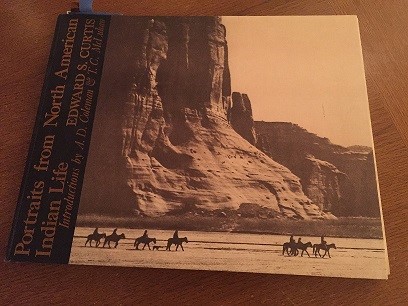 During my early days working in the photojournalism school's dark room, I was moving from making color photographs to falling in love with making black and white silver gelatin prints. Later, I was to make another shift. I was developing a passion for sepia tone ink prints on paper, known as photogravures.
Little did I know that 25 years later I would make another great "discovery" when I found a complete mint conditioned 20-volume set of Curtis's original photogravures contained in his Magnus opus, "The North American Indian" curated at Denver University where I had been a guest lecturer since 1985.
I would also be fortunate enough to eventually meet and get to know some of the descendants of the Navaho riders seen in "Canon De Chelly". But these are stories to be shared another time.
~ Paul Unks, Mountain Hawk ~
Related Posts You Might Be Interested In